With all the news about
James Levine
, it's been a rough few months at the Met, although you wouldn't know it from the Live in HD series. I've been to four of the five broadcasts since the new year (I missed
La Bohème
), and they seem to be drowning their sorrows in the elaborate and expensive productions that have been their calling card for the last fifty years or so. Don't get me wrong—the money is mostly well-spent. Sir David McVicar's new
Tosca
meticulously recreates early nineteenth century Rome right down to the statue of St. Michael atop the Castel Sant'Angelo, who towers over the third act like the Angel of Death, passing judgement on the miserable lives of characters below. Bartlett Sher's effervescent 2012 production of
L'Elisir D'Amore
still holds up, and Phelim McDermott's new Coney Island-themed
Così fan Tutte
mostly makes good use of the carnival setting, albeit with some unnecessary gimmicks and distractions. Only John Copley's
Semiramide
was a disappointment. Despite
Angela Meade's thrilling turn
in the title role, the production served as a reminder of how far opera has come since the
park-and-bark
days of the 1960s, 1970s, and 1980s (beautiful singing, terrible staging). The lavish costumes and gigantic sets of
Semiramide
rendered an already slow piece even stiffer.
Set design for Tosca, Act III
Still, opera is so mired in historical sexual politics, I couldn't help but watch these broadcasts with recent events in mind, and not just those surrounding Levine. With the advent of #MeToo, we have been flooded with revelations of rampant sexual misconduct (although for most women, this is hardly breaking news). Perhaps better than any other genre, opera distills and crystalizes patterns of sexual abuse. So how could I not remember
Lupita Nyong'o's account
of Harvey Weinstein demanding sexual favors as I watched Scarpia negotiate with Tosca for Cavaradossi's release? An older, powerful man holds a young actress's fate in his hands; all she has to do is surrender control of her body. I admit I took no small pleasure in watching Tosca get her revenge, even if it was short-lived.
But Scarpia is a red herring. He's what we picture when we think of a sexual predator: leering, unrepentant, and utterly irredeemable. In real life, it's not so easy. Not all predators go around singing "
Ha più forte sapore la conquista violenta che il mellifluo consenso
" ("For myself, the violent conquest has stronger relish than the soft surrender"). To find the real villains—that is, the
realistic
villains—we have to look somewhere more disturbing even than the shadowy world of
Tosca
. We have to look at the comedies.
Despite a charming production and delightful performances from
Pretty Yende, Ildebrando Archangelo
, and Matthew Polenzani, I sat through
L'Elisir D'Amore
with a feeling of profound discomfort. As Nemorino insisted on pursuing Adina despite her firm objections, all I could think was that he needed to back off. Even Polenzani's hauntingly beautiful performance of "
Una Furtiva Lagrima
" couldn't dislodge the uneasiness in the pit of my stomach. I know "
Una parola, o Adina
" is supposed to be romantic, but in this day and age I felt the tug of a threatening undercurrent. Yes, in this particular story, Adina is just playing hard to get. But what if she wasn't? What if she really isn't interested in Nemorino? How far does he push this? We've definitely seen
women killed for saying "no" before
. Given that rape is a
near
constant
threat
for women in opera, the line between comedy and tragedy in this one seems dangerously thin. We may not like to admit it, but Nemorino has the potential to be just as much a predator as Scarpia. The trouble is that from the woman's point of view, it can be almost impossible to tell the difference.
Then there's
Così
. Although in the eighteenth century this was probably seen as an unproblematic indictment of women, in twenty-first century performances no one comes out looking good. Ferrando and Guglielmo look like jerks for seducing the women under false pretenses, and Dorabella and Fiordiligi look like bimbos for falling for it (Don Alfonso and Despina just look like vindicated cynics). More to the point, over and over
Così
presents us with women saying "no," and men barging ahead anyway, sometimes using extreme tactics to get their way. When Ferrando threatens to kill himself if Fiordiligi rejects him, I always cringe. That's not seduction. That's not even romantic. That's emotional blackmail. At least Scarpia is honest with his intentions. Yet most productions calmly let it slide. And who can blame them? "
Fra gli amplessi
" is one of Mozart's most breathtaking duets, so beautiful that it distracts us from what's really going on. Therein lies the danger of opera. It mesmerizes us with beautiful music and astonishing stagecraft, seducing us into accepting unconscionable behavior as normal, even desirable. If we aren't careful, it chips away at our common sense of right and wrong.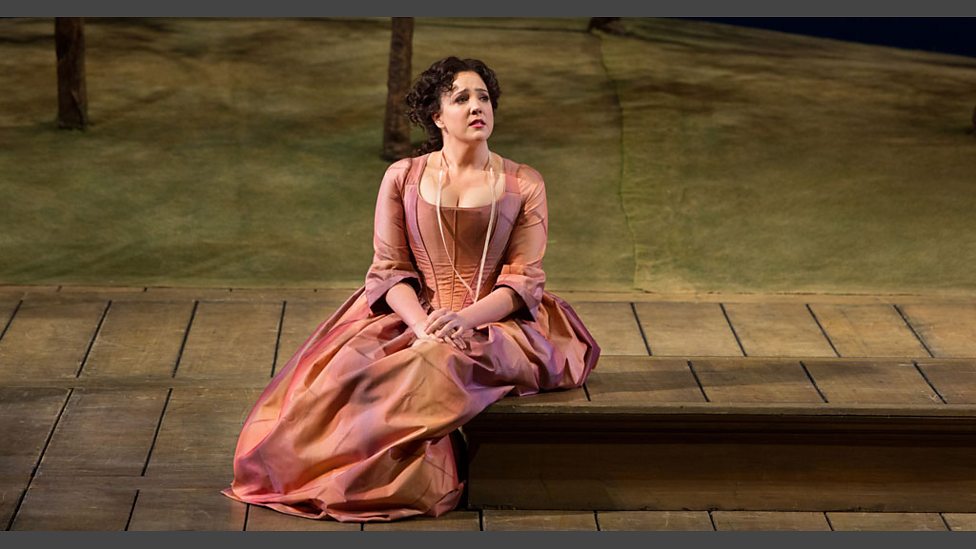 Susanna Phillips as a miserable Fiordiligi in an previous Met production of Così
Being a feminist and an opera fan has never been easy. Often, I can chalk up the misogyny to the "bad old days," or at least smile when predators get their comeuppance. But for
L'Elisir
and
Così
, right now they hit a little close to home in ways that make them difficult to dismiss. As the Met's website attests, the ending of
L'Elisir
"is as much a foregone conclusion as it would be in a romantic comedy film today." Contemporary love stories constantly tell men that
"no" is code for "try harder."
Gestures that are framed as romantic in modern-day literature and film
make my blood run cold
, and can't help but come to mind as I watch these operas unfold. The Met claims that "the joy is in the journey" of these romances, but who is really taking pleasure in these stories? We like to think that we've come so far, or that all villains are baritones that sing arias cluing us in to their intentions. But opera reminds us that it's never that simple, and that just because the tenor can melt your heart doesn't mean he's a "good guy." Just ask Fiordiligi.